A Short History of the Astronomical Telscope

Dark adaped human eye: d = 7mm

Image forming mechanism (lens)
Detector (retina)
Image processing software (brain)
---
Squid & Octopus eyes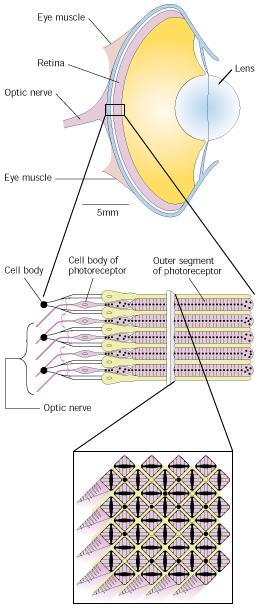 The Giant Squid has the largest eyes
The eye can grow to a diameter of 25 cm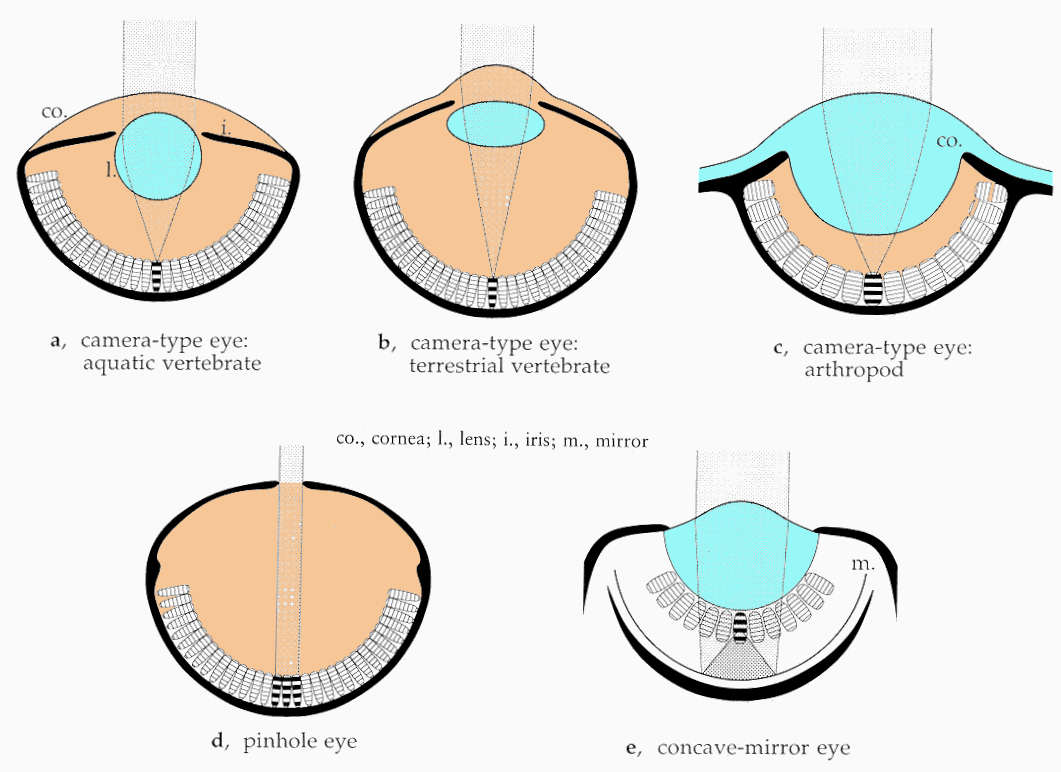 There are at least nine basic types of animal eyes

Eyes did not evolve from a single ancestor
Eyes have evolved over 40 separate times
---
So why do we need telescopes?
Angular resolution

The ability to distinguish two closely spaced objects and fine detail
Human eye angular resolution is ~ 1 minute of arc (3 mrad)

Unsufficient to resolve any solar system objects, except the sun and the moon (30 minute angular diameter)
Cannot discern planetary disks

The angular resolution of a perfect telesope is ~ lambda/D

Dark adapted the human eye has a pupil diameter of around 7 mm
The diffraction limit is12 seconds of arc

7 x 50 binoculars

50 mm objective: resolution ~ 2 arc second ( 10 micro rad)
Sufficient to resolve

Discs of Mercury, Venus, Mars, Jupiter, Uranus & Neptune
Show lunar craters
Sunspots
Moons of Jupiter
Resolve the Milky Way into stars

Because we must observe through the Earth's turbulent atmosphere, stellar images are blurred to about 1''

stars twinkle a lot.

Collecting area

Large eyes collect more energy per unit time (proportional to D)
The Giant Squid which lives in abyssal ocean ( ~ 3000 m)

Big eyes help you see in the dark

Wavelength sensitivity

The human eye is not sensitive to UV (< 450 nm) or IR (> 750 nm)
The human eye has only limit ability analyse the spectral content of light
---
Galileo (1562-1642)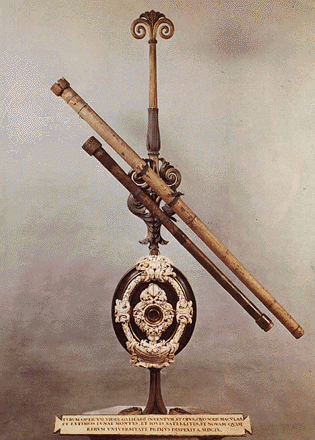 Galileo made his first telescope ~ 1610
Two refracting telescopes made by Galileo, c. 1615.
Galileo's largest diameter objective lens was 1.75 inches

Advantages
Refractors are rugged

After initial alignment, their optical system is resistant to misalignment.
The glass surfaces inside the tube is sealed and rarely needs cleaning.

Air currents and effects due to changing temperatures in the tube are eliminated

Images are steadier and sharper than those from a reflector telescope of the same size.
Disadvantages
Refractors suffer from chromatic aberration
Transmission of light varies with the wavelength of the light

UV transmission of lenses is typically poor
Light tranmission decreases as the thickness of the lens increases

It is difficult to make a glass with no internal imperfections
The objective can be supported only at the ends and the glass will sag under its own weight
---
Newton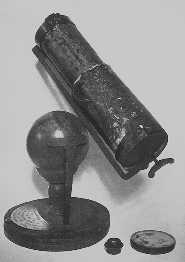 Newton's reflecting telescope (1672) with 1.5 spherical mirror

It has been know since Descartes' invention of analytic geometry (1630) that the correct form for the primary mirror is a parabola
Newton had no way of figuring conic sections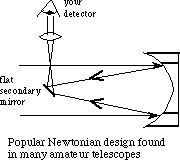 ---
William Herschel's (1738-1822) 48-inch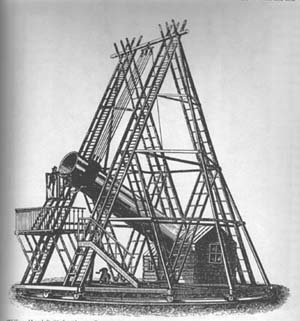 Herschel was the first astronomer to master the art of figuring large parabolic mirrors

Professional muscian practical interest in telescopes began in 1773 when he was 35
Discovered Uranus with his 6.25" reflector in 1781
Subsequently built 12" & 18.8" (1784) reflectors.
Determination to build an even larger instrument led to his 48" x 40' f.l. monster completed in 1789

Discovered the 6th and 7th satellites of Saturn

Melbourne Observatory and 48" f/41.7 Reflector (1869)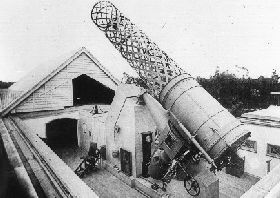 Alvin Clark (1888) Lick 36-inch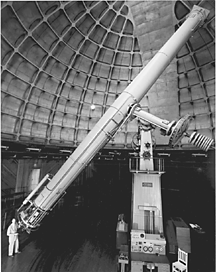 The era of the big refractors was well under way when the Lick Observatory, Mt Hamilton, CA, opened on June 1, 1888
Lick was the first observatory situated at remote site chosen for clear, dark skys and good seeing
Soon became the leading center for the study of radial velocities of stars and nebula, using the largest refractor in the world

W. W. Campbell was director of Lick Observatory from 1923-1930
Remains that lead today with the Lick Planet search
---
G. Hale & G. W. Ritchey (1908): Mt Wilson 60-inch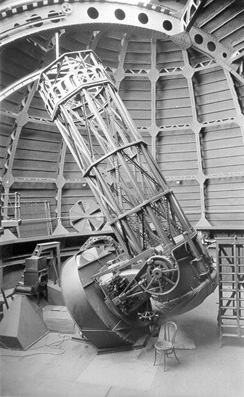 George E. Hale used a mirror purchased for him by his father in 1894 and figured by George Willis Ritchey to convince the Carnegie Institute of Washington to finance a 60" reflector at a new observatory on Mount Wilson, CA in 1908

Harlow Shapley surveyed the Mily Way globular cluster system using the 60-inch
He found RR Lyrae stars in these clusers

RR Lyrae stars vary regularly in brightness and exhibit a period-luminosity relation
Measurement of apparent brightness and period allows the distance to individual stars to be measured
Shapley measured the distances to 93 globular clusters and showed that the sun is located about 10 kpc from the center of the Milky Way, which is located in the direction of the constellation of Sagittarius

---
G. Hale & G. W. Ritchey (1917): Mt Wilson 100-inch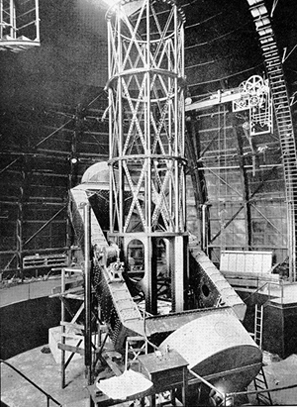 While the 60" was still under going tests, Hale convinced J.D. Hooker to finance a 100" reflector
Ritchey once again directed the figuring and the telescope saw first light in 1917

Hubble used the 60 & 100-inch to discover Cepheid variables in M31 and show unambiguously that the spiral nebulae were galaxies external to the Milky Way
Hubble and Humason used the "The Velocity-Distance Relation among Extra-Galactic Nebulae"
---
Anderson, Brown & Hendrix (1948): Palomar 200-inch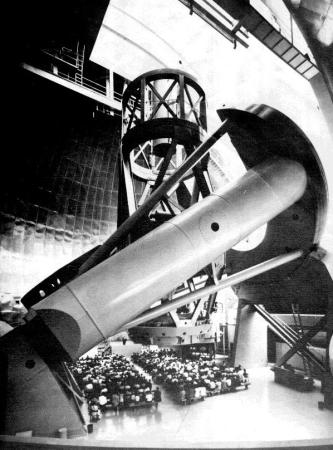 Hale once again pushed for a still larger reflector

Hale convinced the Rockefeller Foundation and the California Institute of Technology to enter into a joint venture in building a 200" reflector and an observatory to house it, on Mount Palomar.
Hale died before it's completion in 1948, the 200", which bears his name was the largest and most prolific for the next three decades.
---
Hubble 2.5-meter Space Telescope (1989)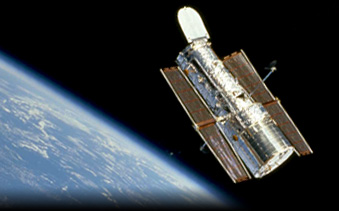 The Keck 10-m (400-inch) Telescopes (1992)
Keck I & II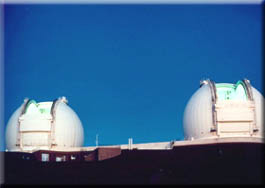 Inside the dome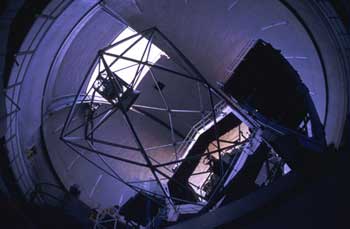 Keck's segmented mirror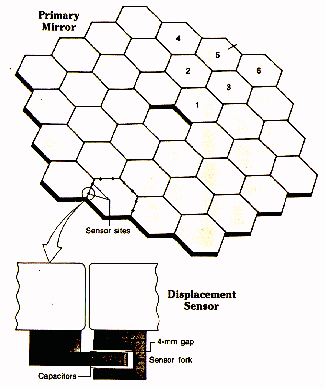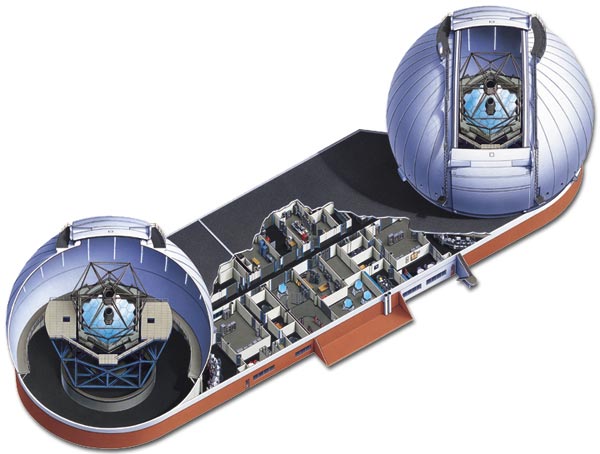 Adaptive Optics & Laser Guide Stars (2002)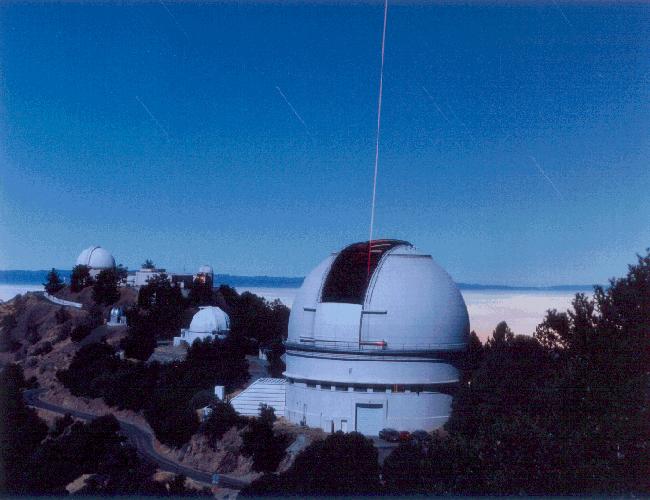 CELT (2015?)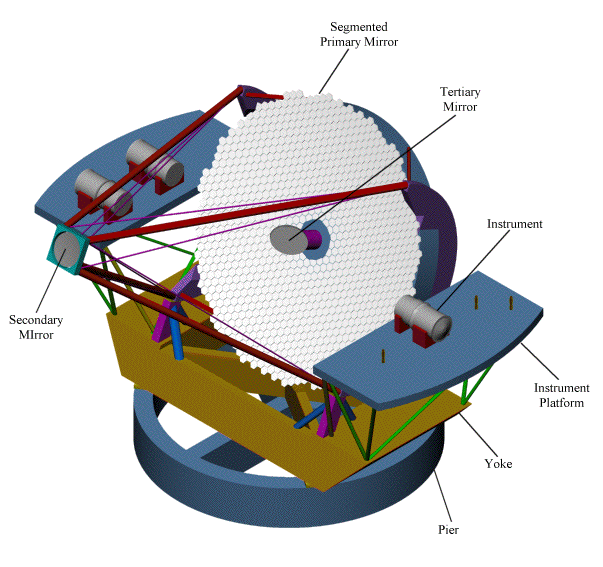 CELT & Stonehenge