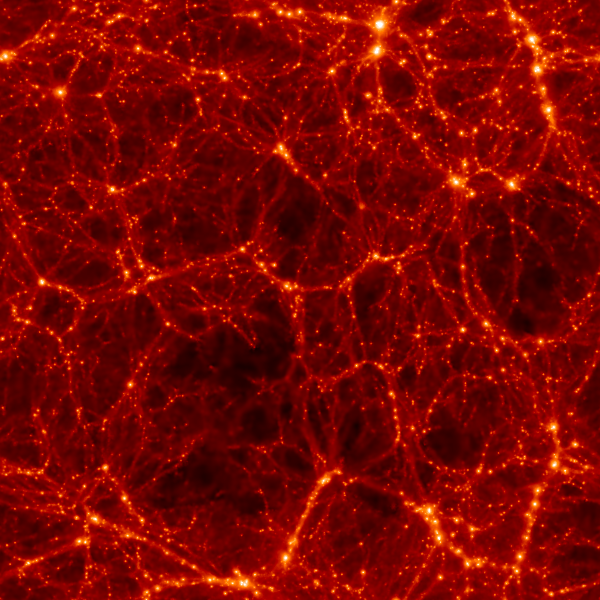 Numerical simulations of structure formation

The Cosmic Microwave Background gives a snapshot of the universe (plus some processing) corresponding to when the universe was about 300,000 years old. With the expected increase in data over the next few years, these early conditions, and a variety of cosmological parameters, will become ever better determined. In order to study how the structure in the universe evolves from these small fluctuations at early times into the large scale structure we observe in many other ways, numerical simulations have become crucial. This is because gravity acts non-linearly -- a large amount of mass will attract other mass around it, increasing the amount of mass at that position. This enhances the attraction to other nearby mass and so on. Beyond a certain stage analytic calculation becomes intractable. The heuristic picture is understood: gravitational collapse takes the initial pattern of small density fluctuations in the early universe and transforms them into regions which are either more and more dense or more and more underdense, with overdense regions eventually forming stars, galaxies, galaxy clusters, etc. The resulting "cosmic web" has highly dense regions embedded as nodes in an interconnected filamentary structure.

More details of this process are becoming accessible to both observational and numerical investigation. Due to advances in computational power, numerical simulations can now reliably capture many properties of this evolution, providing copies of mock universes whose statistical properties can be compared to our own and upon which we can experiment. These simulations can either be used to characterize features of the standard paradigm (e.g. with Cold Dark Matter dominating this collapse process) or to test how changes in this paradigm (for instance varying initial conditions, cosmological parameters or properties of the dark matter) might affect various observations. These simulations can have dark matter alone (which is collisionless and so just involves gravitational interactions), include dark matter and other matter (and thus collisions and hydrodynamic effects), or go even further. Although simulations cannot yet describe all processes and scales of interest, in certain cases the necessary physics can be included and compared with observation. This can be used to confront the new and exciting data with both standard theory and its extensions. In my work I have been using numerical simulations to study many of these cases, including galaxy clusters (some simulation results are here), weak gravitational lensing by large scale structure or galaxy clusters, the Lyman alpha forest, and the Sunyaev- Zel'dovich effect (scattering of CMB photons off of ionized electrons). There are transparencies from an introductory talk on numerical simulations in cosmology here and some movies linked from here.
---

The Microwave Background

Part of the reason for our optimism that we will `soon' know the answers to many of our most basic questions comes from our recent ability to measure fluctuations in the Cosmic Microwave Background Radiation (CMBR). This radiation is a snapshot of the universe when it was only 300,000 years old, long before the formation of stars and galaxies. The minute fluctuations in the temperature of the CMBR across the sky can tell us about the seeds of the structure which we see about us today and also measure with unprecedented accuracy all of the major cosmological parameters. A review of the current state of the cosmos can be found in the web pages of ESA's Planck satellite mission or the CMB-S4 collaboration..

These CMB data have dramatically confirmed our basic theoretical picture. For more theoretical details, see The Cosmic Symphony or The Cosmic Rosetta Stone (which is one of several on-line documents describing the CMB, large-scale structure and cosmology). At a slightly higher level, the essay Echoes of Gravity by Douglas Scott and myself covers the basic physics of CMB anisotropies in a few pages.
---