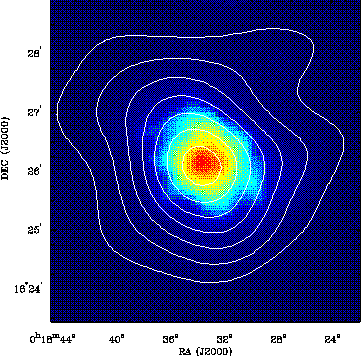 FIG.5 Comparing microwave tomography (contour lines) of a galaxy cluster (CL0016+16) with an X-ray image of its hot intergalactic gas (false colors) provides a way of measuring the Hubble constant without standard candles. Figure courtesy of John Carlstrom and Marshall Joy.


It is likely that there will still be much to learn from CMB polarization after MAP and Planck. In particular, polarization might be very useful in separating the contribution of inflation-produced gravity waves to CMB anisotropy, as gravity waves induce a different pattern of polarization than density perturbations do. Determining the level of gravitational radiation fixes the energy scale of inflation. Polarization is also crucial for detecting the re-ionization of the neutral transparent Universe by the first generation of stars or quasars. These objects are thought to have appeared at redshifts of around ten to twenty, and ended the ``dark age'' that began with last scattering.

Beyond its immense value as a cosmic Rosetta stone, the CMB is being used for other purposes. Perhaps the most exciting is ``microwave tomography'' of clusters of galaxies using the S-Z effect. In 1972 Sunyaev and Zel'dovich pointed out that some of the CMB photons passing through the hot gas in clusters are scattered to higher energy by inverse Compton scattering (S-Z effect). This leads to a small spectral distortion of the CMB whose amplitude depends on the temperature and density of the cluster gas, but is independent of redshift. The S-Z effect can be used to the study the structure of clusters as well as to search for clusters at high redshift where the galaxies may be too faint to be seen, or may not even be present. Further, by comparing S-Z maps with x-ray maps of clusters (see Fig.5), the Hubble constant can be determined without recourse to the usual method of ``standard candles.'' That's because the S-Z distortion is proportional to the line-of-sight integral of the electron density whereas the X-ray intensity is proportional To the integral of the square. Comparing the two yields a determination of the clusters size.

The Cosmic Microwave Background has played a central role in cosmology since its discovery in 1965. It is one of the cornerstones of the standard hot big-bang theory. The study of CMB anisotropy with

K precision and fraction of a degree angular resolution is likely to have as least as much impact as the discovery of the CMB. It will put to the test our most promising ideas about the earliest moments and will determine for us the elusive fundamental parameters of cosmology.
---
---